General
questions
1. Where is the Hotel?
Hotel Forum is situated in the historical centre of Pompei.
2. What is the exact address to type in the navigator?
The address of our Hotel in Pompei, is Hotel Forum, Via Roma 99/101, 80045 Pompei (NA).
3. What are your contact details?
Our contact details are: Tel.: +39 081 8501170 Fax: +39 081 8506132 e-mail:info@hotelforum.it
4. How is it possible to book a stay by your hotel?
It is possible to book through our website, by e-mail or by phone; it is also possible to find our hotel in the most important web booking portals.
5. What is the address of your website?
www.hotelforum.it
6. How can I book directly through your website?
The steps are the following: check the accommodation availability and prices and then confirm your booking.You will be asked to type the number and the validity period of your credit card. Then a message with all the data of your booking will be sent to the e-mail address provided by you.
7. What payment methods do you accept?
We accept the following payment methods: Credit card. – Bank transfer: to be carried out within 10 days from the date of arrival- Cashier's check issued in the name of: F.lli Falanga Jr srl - Cash: up to € 2999.00 N.B. For administration reasons bank cheques are not accepted.
8. Which credit cards do you accept?
Visa - Mastercard - Amex - Diners - Maestro –Jcb
9. Do you accept any pets?
We accept medium-sized and small animals, after you have informed us about that by e-mail or by phone. They do not pay but they have to observe the following rules:
- They are not admitted in the Restaurant/Breakfast hall
- They have to be kept on the leash and muzzled in the shared areas – They have not be kept in the room during the hours devoted to the tyding of it
10. Is it possible to host relatives and/or friends in the rooms, even if they are not staying in the hotel?
You can host your guests who are not staying at the hotel, in the shared areas but, in case your guests want to visit you in your room, they have to show their identity document.
11. Is it possible to keep my valuables safe?
Yes, all the rooms are provided with a safe.
12. Which breakfast do you offer?
We offer a buffet continental breakfast.
13. At what time is breakfast served?
From 07:30 to 10:30
Reception
1. At what time can guests check -in and check- out?
Guests are asked to check-in from 2.00p.m. of the day of arrival and check-out within 11.00 of the departure day.
2. Is it possible to check-in early or check-out late
It is possible on request previously made to the reception.
3. What is your cancellation policy?
It is possible to cancel a booking free of charge up to 48H before the date of arrival.
A penalty is applied amounting to the cost of the first night stay, in case of late cancellation or of No-Show.
4. Up to what age do children not pay?
Children being up to 2 years old and who sleeep in their parents' bed, do not pay.
The babies who need a cradle to sleep, pay an additional cost of € 15.00 a day
The children who are up to 8 years old, pay an additional cost of € 15.00 a dayo
The children who are from 9 years old on, pay as much as adults.
5.Have you an Internet connection?
Yes, we have got a Wi-Fi free connection, which is available all over our building.
6. How many languages do they speak at the reception desk?
English, French, German, Spanish, Japanese.
7. Is it possible to have a tourist guide service?
It is possible to book a tourist guide service at the reception desk.
Transfer
and
means
of
transport
1. How can I reach your hotel??
FROM NAPLES: Motorway: A3 Naples-Salerno. The exit is Pompei Ovest (coming from the north) Pompei (coming from the south), directed to the centre of Pompei. The parking area of the hotel is situated on the opposite side of the road ("Eden Park"); parking is included in the room price, our stamp on the ticket our guests will receive at the entrance of the parking area, will show that.
2. Which public means of transport can I take to get to the hotel?
They can be:
- railways Trenitalia. The stop is Pompei
- City train Circumvesuviana: it stops at Pompei, Santuario stop along the line Naples-Poggiomarino (300 mt from the Hotel) and at Pompei Excavations, Villa dei Misteri stop along the line Naples-Sorrento (1km from the Hotel).
3.Is it possible to organize tranfers from and for the airport/station/a specific destination?
It is possible to organize transfers by calling the Hotel or by sending an e-mail and providing details.
4.Which excursions can I do from your hotel?
From Pompei it is possible to reach many places like: Naples – Ercolano – Vesuvius – Sorrento Coast – Amalfi Coast-Islands in the Gulf of Naples.
Restaurnt/Bar
1. Have you got one or more restaurants?
Yes we have both an indoor and outdoor restaurant
2. What are lunch and dinner times?
From 12.00 a.m. to 4.p.m. and from 6.00 p.m. to 11.00 p.m..
3. Is it possible to book half or full board?
Yes you can.
4. Do you serve dishes for celiac and diabetic people?
We serve dishes for celiac people too.
5. Do you also offer dishes of vegetarian or vegan cuisine?
No we do not
6. Is it possible to organize events at your hotel?
It is possible to organize events of any kind at our hotel, but not Wedding, Christening, Confirmation, First Communion,and 18th birthday parties.
7. Have you got a bar?
From 10.00 a.m. to 3.00 p.m. and from 5.00 to 12.00 p.m.
8. Do you offer a room service? If yes, is it free?
We provide only a room service for breakfast, on request and it is not free.
Rooms
1. How many rooms are there in your hotel?
The hotel has got 33 rooms of different kinds
2. Is breakfast included in the room price?
Yes, breakfast is always included
3. Which comforts do rooms offer?
Rooms are provided with: satellite TV, direct telephone line, Wi-Fi connection, minibar, safe and air conditioning.
4. it possible to book a no smoking room?
All our rooms are no smoking rooms, we have shared areas in the open air for smokers
5. Is there a lift?
Yes, there is
6. Have you got any adjoining rooms?
We have got 2 adjoining rooms: the Mini Suite Elegant and the Royal Suite
7. Have you got any Junior Suites and/or Suites?
Yes, we have got a Junior Suite and a Suite
Meeting
room
1. How many seats does it contain?
It contains up to a maximum number of 45 seats
2. What equipment is the meeting room provided with?
The meeting room is provided with modern audio-visual technologies, such as a video projector, an amplifying system, which allow the guests at the meeting, to use fast and reliable connections on their devices.
3. Is it possible to organize coffee breaks or light lunches during the meeting?
It is possible on request.
4. Which layouts of the meeting room do you provide?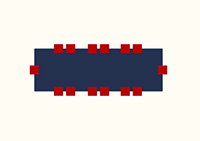 Diplomatic layout 16 people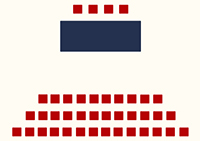 Stalls layout 45 people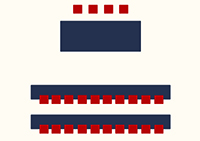 School layout 24 people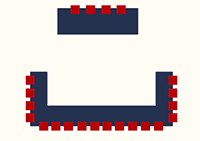 U-shape layout 26 people
Services
1. In case I forget something at the hotel, can I have it sent to me?
We always ask our guests to give us their telephone number or an e-mail address, in order to be able to contact them if they have forgotten something at the Hotel, but we can only keep the forgotten object safe. It is up to the guest to arrange for sending the object kept by us, to his address, by a courier he trusts on.
2. Is there a lounge room?
Yes, we have a lounge room where our guests can read, work at the computer, or watch tv.